When I hosted Tru Ludwig's History of Prints class at the museum, I pulled out a lot of wonderful works. During class there was a distinct ballet going on between Tru's narrative and all the shifting of prints that Ben and I, and later Morgan and I, presented.
Imagine 80 prints in stacks, in the order of the class list on several carts. Imagine that as Tru talked about each artist and each print, we laid them out in order, pulled out the interleaving and placed it on top so as to not reveal the image until it was time, listened to the narrative to anticipate the perfect moment for the reveal, and then judge when it was appropriate to replace the interleaving and move the work to the done pile, and put out the next round of works. If we were lucky, we had several tables lined up so that we could put out a number of works. Ben and I wordlessly performed this dance taking turns as the revealer and the stacker.
There were times that one could listen and really take in the tale Tru was weaving, but there were many times when the dance caused me to miss whole chunks of history. And it's a fascinating tale. I've always loved the idea that the history of art is our shared cultural history, the history revealing the creativity as the best part of us. While it's important, of course, to chart the history of nations, politics, wars (especially now), I do not want to lose sight of this aspect--our creativity. Now Tru and I are revisiting the history of prints classes we taught together for fifteen years through our podcast, Platemark.
There are differences between class and the podcast. Obviously, we're talking about a visual medium in an audio format. I tried to alleviate that issue by including the images of the prints we discuss in the podcast's show notes for each episode.
But the other difference is that we have time. We've been talking and talking, and we've produced a good number of episodes. During a school semester, within the same amount of time we've been producing episodes (since September 2021), we'd be deep in the 20th century—well, the semester would be over. And yet, we're barely in the middle of the 16th century.
We've spent the last few episodes in Italy looking at some of the titans of early Italian printmaking: Pollaiuolo, Mantegna, MarcAntonio Raimondi, Parmigianino, Ugo da Carpi, Antonio da Trento, Titian, Giorgio Ghisi, Federico Barocci. The Italian Renaissance is seriously not my area of interest or expertise, and I never listened with any intention during the early weeks of class. Now that I'm paying attention and not worrying about images until post-production, it's been revelatory to dig in deep with Tru on this period. I've been surprised that I am now a fan of Parmigianino, for instance. His Entombment always left me cold, but with more background and a better understanding of the time, I now see why it looks as it does. It's an entirely new print to me.
Here are a few highlights from the early Italian prints section.
Pollaiuolo, Battle of Ten Nude Men: a first example of Italian interest in the human figure and how bodies move. This one still feels super awkward to me, but I can appreciate it as a print that so many artists used as a model for depicting humans in dynamic motion.
Mantegna, The Entombment: further developed study of physical form and established new, super stable, and not particularly emotive compositions by which to illustrate biblical stories and mythologies.
Ugo da Carpi, Diogenes: an artist who excelled at chiaroscuro woodcuts, a way to make prints the look like wash drawings. I love the idea that Italian connoisseurs were enamored with drawings, which so often are forgotten.
Parmigianino, The Entombment: in reaction to the Sack of Rome in 1527, which cut the population of Rome in half, Parmigianino created in the "manner" of the Ninja Turtles (Michelangelo, Raphael, Leonardo), but with a post-Sack-of-Rome twist. Everything is twisted, elongated, unstable, making for quite a shift from the solid compositions of Raphael and Mantegna. He's the first peintre-graveur, meaning he worked in etching on his own compositions, which are autographic (as opposed to the formulaic look of engraving). He makes the first successful etchings on copper, including the weird and wonderful Entombment in which Jesus is laid out on a slab with all the people shoved behind and to the left. Imagine what Mantegna would think of this composition.
Federico Barocci, The Stigmatization of St Francis: We really see etching taking off here. Barocci has used multiple dips in the acid to create that light background against the darker foreground. It is, for me, the most delicate and devotional etching we've seen yet. This one gets to me more than any other so far.
Give Platemark a listen and take in some history of Western prints.
Antonio Pollaiuolo (Italian, c. 1432–1498).
Battle of the Ten Nude Men
, c. 1490. Engraving. Sheet (trimmed within platemark): 384 x 589 mm. (15 1/8 x 23 3/16 in.). Metropolitan Museum of Art, New York.
Andrea Mantegna (Italian, c. 1431–1506).
The Entombment
, 1465–75. Engraving. Sheet (trimmed within plate): 229 x 439 mm. Art Institute of Chicago, Chicago.
Ugo da Carpi (Italian, c. 1470–1532), after Parmigianino (Italian, 1503–1540). Diogenes, c. 1527–30. Chiaroscuro woodcut printed from four blocks in gray-green. Image: 18 11/16 x 13 5/8 in. (475 x 346 mm.). Metropolitan Museum of Art, New York.
Parmigianino (Italian, 1503–1540).
Entombment
, c. 1527–30. Etching. Sheet: 13 1/16 x 9 7/16 in. (332 x 240 mm.). Metropolitan Museum of Art, New York.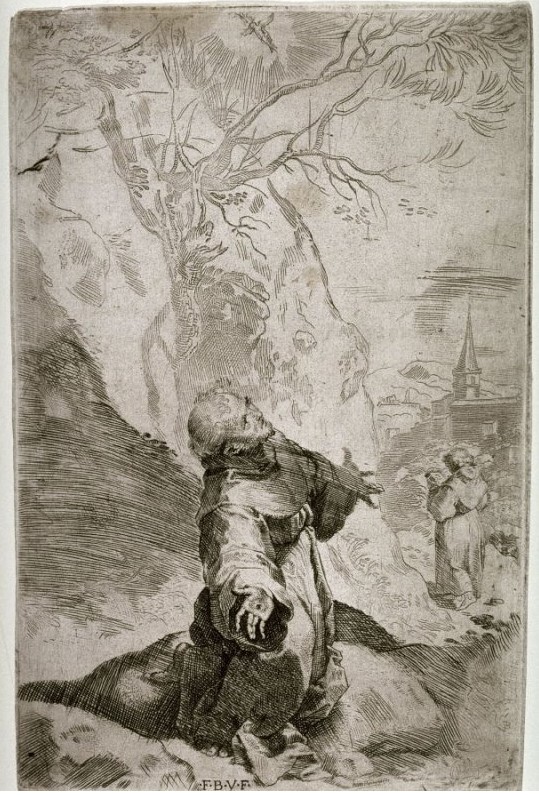 Federico Barocci (Italian, 1528–1612).
The Stigmatization of Saint Francis
, c. 1575. Etching, engraving, and drypoint. Sheet (trimmed to platemark): 228 x 145 mm. Achenbach Foundation for Graphic Arts, Fine Arts Museums of San Francisco.